Auburn, Ala. (EETV) - With their win over Texas A&M, Auburn faces the toughest part of their schedule beginning Saturday.
As No. 10 Auburn welcomes No. 1 Georgia, the Tigers have a monstrous task in taking down the Bulldogs.
Here are my 5 keys for an Auburn upset:
1) Stop the UGA run game
Georgia's most powerful aspect of their game is their run offense. Not only do the Bulldogs have one top running back, rather they have two.
Nick Chubb and Sony Michel are probably the best tandem running backs in the country. Chubb headlines the offense with 876 yards rushing and 9 TDs. He averages a little less than 100 yards per game this season.
Ref did a better job of stopping Nick Chubb than South Carolina pic.twitter.com/V2nmbv5OMb

— Jasmine (@JasmineLWatkins) November 4, 2017
Michel, on the other hand, has 710 yards rushing and 9 TDs, not bad for the number two back.
Keeping that in mind, Georgia leads the SEC and is 10th nationally in rushing yards per game. They happen to average about 280 rushing yards per game. That is a ton of yards on the ground alone.
Luckily for Auburn, the Tigers have one of the best defenses in the country. They rank third nationally allowing 14 rushing TDs since 2016. That is a very low number, considering if you break it in half, Auburn has allowed only 7 rushing TDs in two seasons.
Auburn's best bet of winning this game is by making Georgia use their passing game to beat them.
The Bulldogs are led by true freshman quarterback Jake Fromm. Fromm isn't a terrible quarterback by any means, passing for 15 TDs and 4 INTs.
However, compared to the Georgia run game, Fromm cannot compare.
If Auburn wants to have any chance of taking down the number one team in the country, they will have to stop Chubb and Michel and force Fromm beat them through the air.
2) Establish the run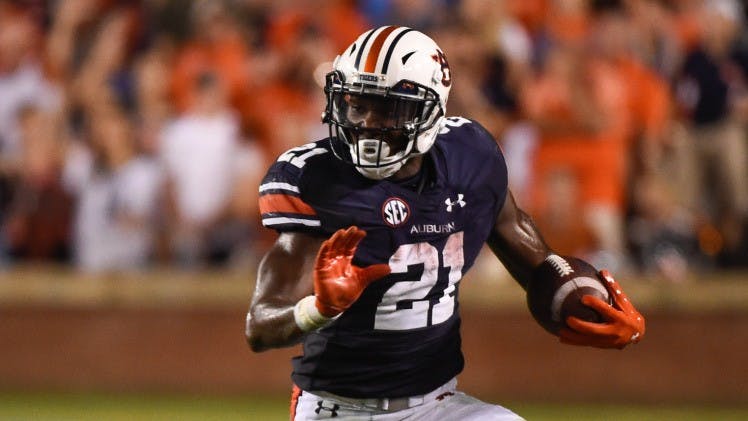 Clearly, all season, Auburn's best part of their offense is their running game. In this game against Georgia, in order to open up the passing game, the run game must be established.
Luckily for Auburn, the Tigers have one of the best running backs in the country in Kerryon Johnson. In the 7 games he has played, he has tallied 15 rushing TDs. That is about 2 touchdowns a game.
He also has 868 rushing yards this season, running for about 124 yards a game.
In the win over Texas A&M, Johnson became a receiving threat as well, catching his first touchdown of the season.
When you look at the Georgia defense, they have allowed 801 rushing yards this season, which is a little under 100 rushing yards allowed each game.
However, their pass defense has given up much more yardage: 1,486 yards this season.
You may think that throwing the ball will be the best way to beat the Bulldogs, which it is. But in order for Stidham to get comfortable in the pocket, Johnson must be able to get going early.
The run game will open up the field and will give the Tigers the ability to throw down the field.
3) Be smart on offense
Obviously, if Auburn wants to win this game, they cannot turn the ball over. Period.
In their win over Texas A&M, the Tigers did not turn over the ball once, a good thing because Auburn has turned the ball over 12 times this season.
Turnovers kept Auburn from beating Mercer like they did Missouri and Mississippi St

— william tucker (@wtucker83) October 1, 2017
Keeping this in mind, Auburn will have to be smart with the ball on offense because Georgia is third in the nation in scoring defense.
This season the Bulldogs average 11.7, just about 12 points, per game on defense. This is a large margin of points stemming from the defense.
If Auburn wants to have a shot at keeping momentum and keeping their crowd advantage, they cannot turn the ball over.
Otherwise, the Georgia defense will turn those mistakes into points.
4) Watch out for Reed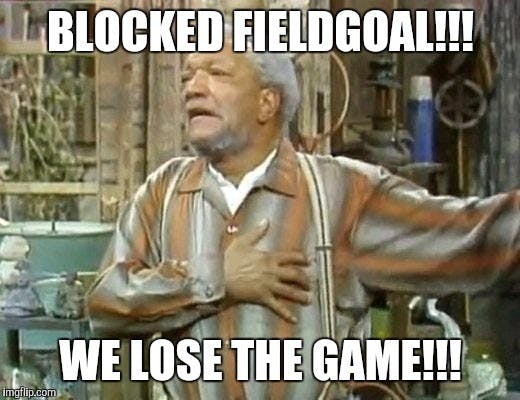 J.R. Reed is one of the most versatile players for Georgia. This season he has blocked a field goal and picked off quarterbacks twice.
Now, that may not seem like that important of a thing until you look at Auburn's performance last weekend.
The Aggies blocked two Carlson field goals, something that rarely happens.
Knowing that Reed has already blocked one field goal and the Auburn kicking unit is clearly a weakness, Georiga will be more likely to send Reed to block field goal attempts.
If Auburn wants to get points on the board every redzone trip, they will have to be prepared for Reed coming to block the field goal.
5) Stop UGA in the redzone
Georgia is clearly good in the redzone. They have walked away with points on 35 of their 36 trips to the redzone. On top of that, they have scored 25 TDs in the redzone this season.
The Bulldogs have a knack for being able to score points, averaging about 40 points a game.
For Auburn to be able to win, they must rely on their defense holding out in the redzone. Luckily, the Tiger defense might be the best part of the Auburn team.
You gotta love what @humble55_ (TD Moultry) is starting to do for this Auburn defense. He's getting better every week. Solid burst. Shows his strength.Results in a sack. pic.twitter.com/qJl2zIoHuQ

— Zac Blackerby (@Zblackerby) November 10, 2017
The Tigers average allowing about 17 points to their opponents, a key factor in being able to slow the Georgia offense.
If Auburn wants to take down the top team in the country, they must be able to stop Georgia from getting points on every redzone appearance they make.