Auburn, Ala. (EETV) - The now No. 10 Tigers once again showed their dominance in the SEC, this time defeating Ole Miss.
Auburn's 49-23 over the Rebels showed the continued improvement of the Tigers as a whole.
Here are my 5 takeaways following the defeat of Ole Miss:
1) Kerryon Johnson is a beast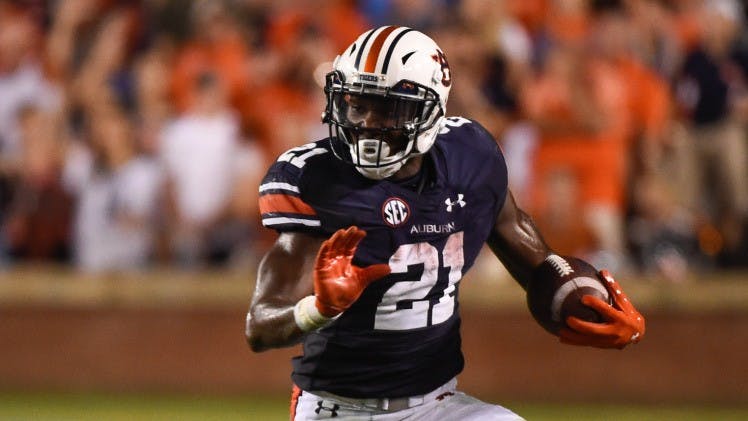 Kerryon Johnson was by far and away the best player on the field for both teams Saturday.
Johnson has continued to improve this season, especially considering he was injured during the week 1 game against Georgia Southern.
"I don't know of a lot of players that week one will be running for a touchdown, and they pull a hamstring bad enough to where they have to go down and then be able to come back two weeks later and be able to play at the high level he is right now," said Gus Malzahn. "It says a lot about him."
Since Johnson's return in week 4 against Mizzou, he has rushed for 11 touchdowns and 306 yards.
The first SEC player in the last 20 years to rush for at least 3 TDs in 3 straight games:@AuburnFootball's Kerryon Johnson. pic.twitter.com/4AyhJWykMg

— SEC Network (@SECNetwork) October 7, 2017
He was unstoppable against Ole Miss as well, rushing for 3 touchdowns and 159 yards in the first half alone. Those numbers are very impressive for a running back who is supposedly only at 90%.
"He brings so much to the game and so much to the offense," WR Ryan Davis said about Johnson. "He's explosive, he's like a receiver running routes. He's pretty much an all-around running back."
After his career day against Ole Miss, Johnson now leads the nation in rushing touchdowns this season, a very impressive fact considering one of the Heisman favorites Penn State's Saquon Barkley is also a running back.
"Heisman frontrunner" Saquon Barkley (played 6 games), vs Kerryon Johnson (played 4 games). And both averaging right at 6 ypc. pic.twitter.com/ywAXjSnaVr

— Alan Capps (@alancapps_) October 8, 2017
2) The second team defense is just as good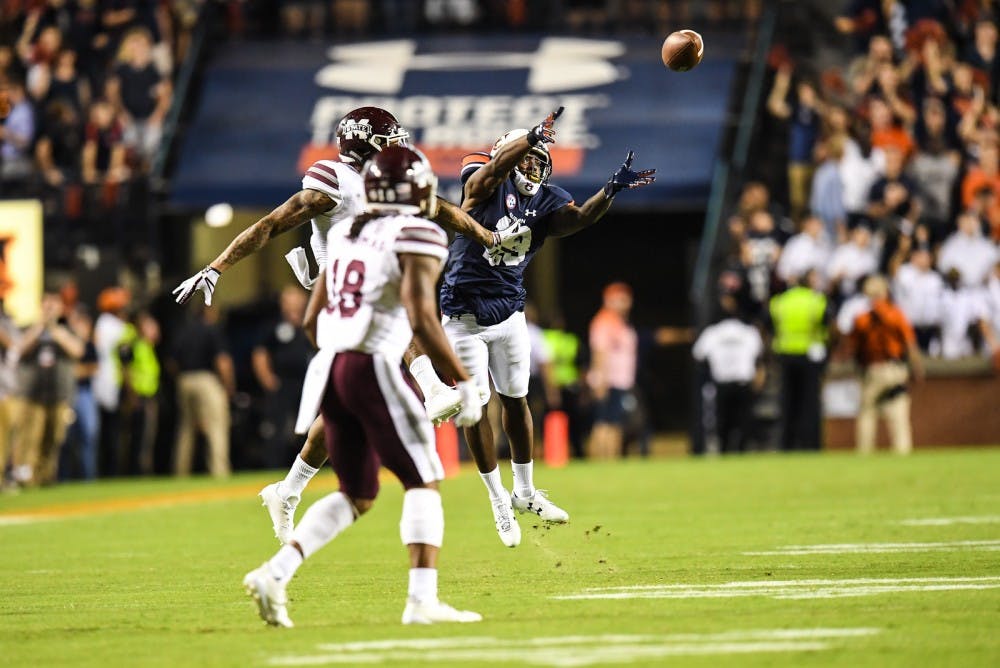 Auburn's defense had yet to give up more than 14 points in a game until Ole Miss put up 23.
However, the Tigers first-team defense was able to hold the Rebels to 10 points.
The fact Malzahn has been able to give playing time to other players because of sheer dominance in multiple weeks has given the second-team defense the opportunity to improve.
Once the Auburn starters were pulled, the second-team defense only gave up 13 points. That is not a lot of points considering Ole Miss and Shae Patterson lead the SEC in the passing game.
"The team executed outstanding defense in the first half of the season, and with that level of performance, they can compare to any group in the country," said Malzahn. "Our defense has an edge about them, and I am thankful they are playing for Auburn."
It's a good sign moving forward that Auburn's second-team defense is just as strong as it's first because at this point in the season injuries will start coming into play.
3) Daniel Carlson is king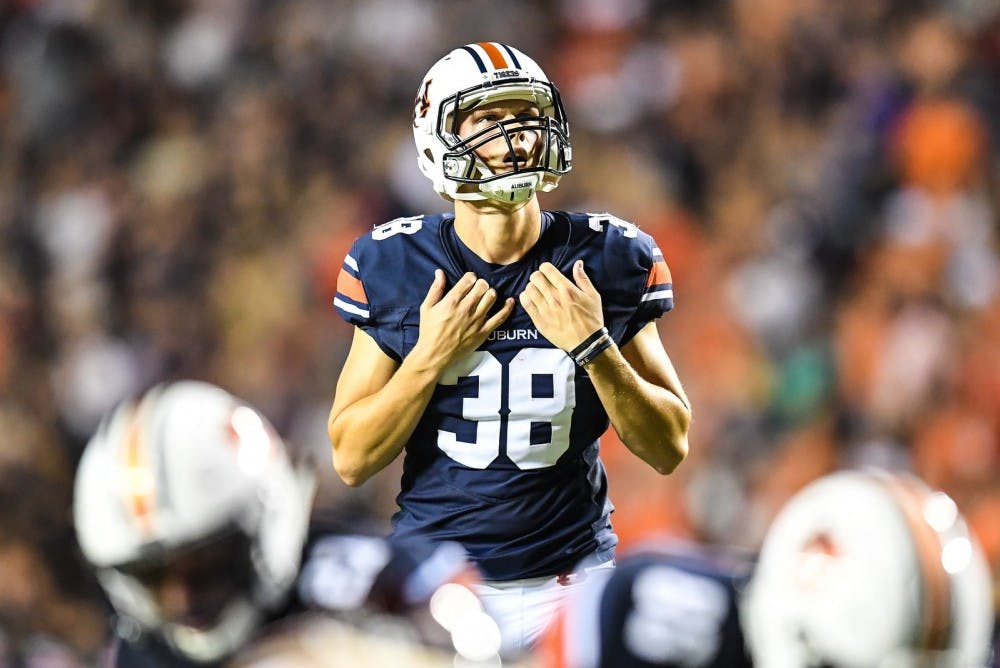 Daniel Carlson has always been a fan favorite. Despite his shaky start to the season, Carlson was able to prove why he is still one of the best kickers in the country against Ole Miss.
What's Sabans worse miss in recruiting? Daniel Carlson.

— Blake Sanderson (@BlakeSanderson1) October 7, 2017
"Daniel Carlson is now the leading scorer in the history of the SEC, and I think that speaks for itself," said Malzahn. "We're very proud of him."
Good job, Daniel Carlson. Congrats on becoming the SEC's all-time leading scorer. #WarEagle pic.twitter.com/ZP192M9hPN

— College And Magnolia (@CollegeAndMag) October 7, 2017
Carlson has had a rough start to the season, missing many field goals that the Carlson of 2016 would not have missed.
As the season has progressed, Tiger fans have seen less of Carlson on the field to kick more than an extra point.
"We've got the best field goal kicker in all the land," said Johnson. "But we try to use him sparingly."
4) Stidham still improving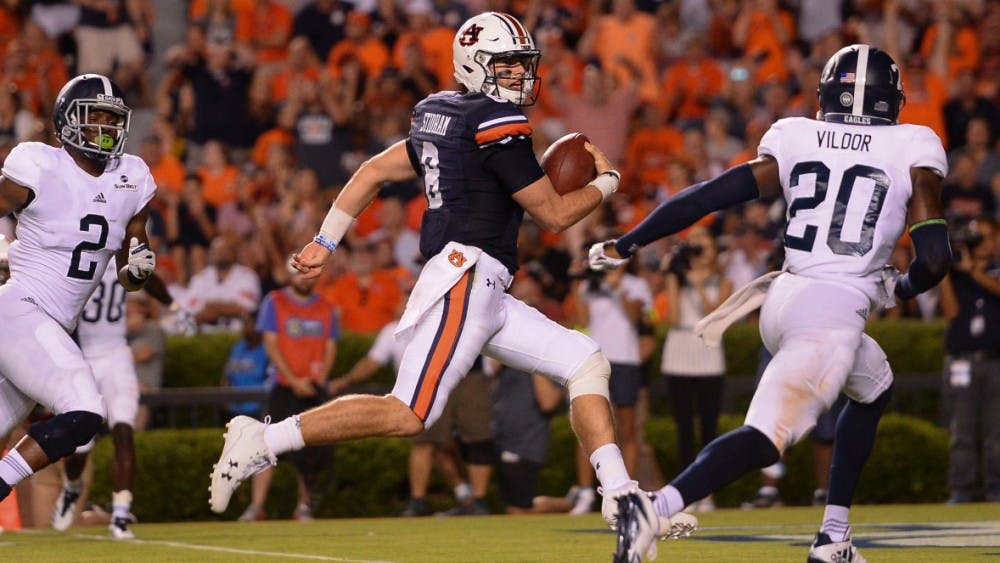 Jarrett Stidham has continued to improve throughout the season. He continues to gain confidence, and it finally seems like he is having fun out there.
In the first three weeks of the season, Stidham looked timid. But since his road trip to Mizzou, Stidham has grown more confident and looks like the quarterback he was supposed to be.
Stidham continues to show that he is a deep threat, hitting Ryan Davis for 75 yards. Granted the pass was a quick out and Davis took it the length, but it is officially Stidham's longest touchdown pass of the season.
"I threw a two-yard pass and Ryan took it for about 75," said Stidham. "Probably the easiest touchdown pass I'm ever going to throw."
Stidham's numbers also continue to impress, throwing for 235 yards and 2 TDs against the Rebels.
Since Auburn's disappointing win over Mercer, Stidham has thrown for 717 yards and 5 TDs. I'd say Stidham is going to continue to improve his numbers as the season progresses.
We win, we fiesta.

(feat. @Jarrett_Stidham)#WarEagle pic.twitter.com/njYB82cypq

— Auburn Football (@AuburnFootball) October 7, 2017
After his solid performance against another SEC defense, Stidham looks poised to continue to lead the Tigers into tougher SEC opponents.
5) Pettway?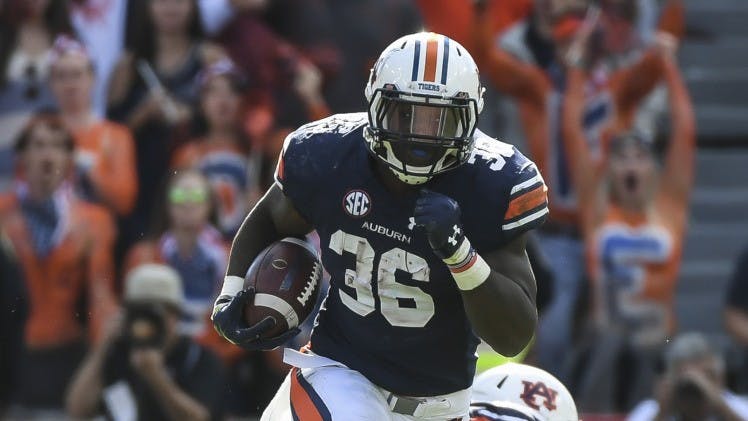 Kamryn Pettway was supposed to be the number one back for the Tigers this season. However, Auburn fans have barely gotten to see him this season.
Pettway was suspended in week 1 and struggled in games against Clemson and Mercer. It looked like he may have lost his step and burned out before the season.
However, throughout the season it has been revealed that he is fighting some sort of undisclosed injury. More than likely a foot/ankle injury.
"We held Kam Pettway out because we're going to try to get him healthy," said Malzahn. "What we've been doing isn't working, letting him play a little bit, so we're going to try to get him healthy."
Thankfully since Johnson's return, the Tigers have not really missed Pettway. However, once Pettway returns at 100% it will be interesting to see if he has his step back.
If his step is back, the Auburn run game may be the most unstopable in the country behind both Pettway and Johnson.