Auburn, Ala. (EETV) - Week 1 of college football has come and gone, which means it's time to move onto tougher match-ups in Week 2.
No. 13 Auburn will face their first big road test of the season, traveling to No. 3 Clemson.
This match-up is going to be a measuring stick for where Auburn is.
As Saturday night kickoff approaches, here are my 5 keys to an Auburn victory:
1) Filter Out the Noise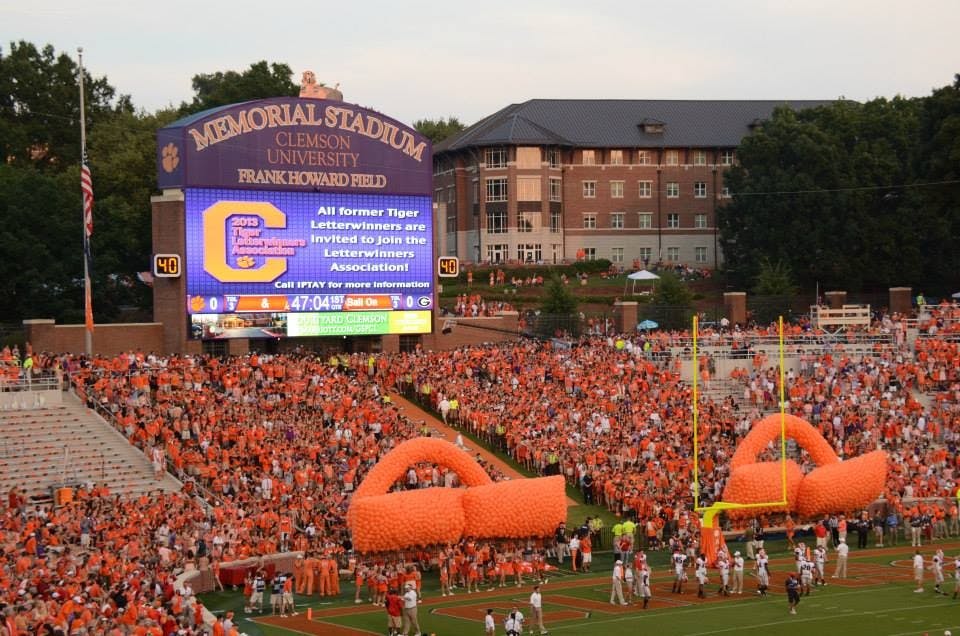 Clemson is well known for having a loud and proud fan base that rocks Memorial Stadium, aka Death Vally. Sports Illustrated recently ranked Clemson No.1 when it comes to game day entrances.
Ranking the best entrances in college football:

14. Nebraska
10. Army
5. Colorado

Did your school make the cut? ➡️ https://t.co/NUy8KOdDEW

— Sports Illustrated (@SInow) September 1, 2017
Even Auburn's players realize how loud Clemson's fans will be.
"You already can anticipate it's going to be a big game," said OL Braden Smith. "They're going to be rocking of course."
With the noise already being a well-known fact to Auburn, the team must be able to block out the noise and communicate properly if they want to succeed in Death Vally.
One other clear fact is that Clemson coach Dabo Swinney and his Tigers are really good at home. In the past 7 seasons, Swinney is 40-3 when playing at home. His Tigers, well they're just as good at home, winning 23 of their last 24 games at home.
Now let's factor in Auburn to this. A ranked Auburn has a losing record when they are on the road against ranked opponents. The Tigers are 21-35-1 on the road when both teams are ranked.
That record does not seem promising as No. 13 Auburn travels to a No. 3 Clemson.
Auburn has to be able to swing momentum their way to keep the crowd out of the game. If Auburn can communicate effectively, blocking out the noise, chances are the Tigers will be able to swing momentum their way and will be able to take the crowd out of the game.
2) Utilize the Passing Game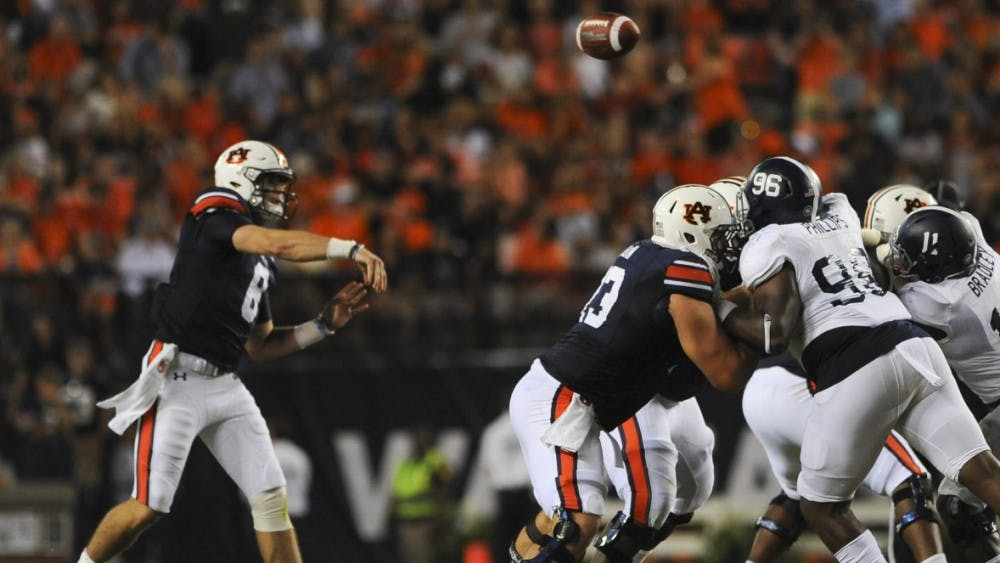 Auburn is known for having a powerful run game, rushing for 351 yards against Georgia Southern. Well, Clemson is known for their strong defensive line.
Clemson's DL was ranked No. 1 by football analyst Tom Luginbill at the beginning of the year.
Clemson's DL has not one but two preseason All-American's in Dexter Lawerance and Christian Wilkins. The Tigers also have an SI top 50 college player in defensive tackle Clelin Ferrel.
Lawerance, potentially the best DE in the country, had 78 tackles and 7 sacks last season as a freshman for Clemson.
Both him and Wilkins played well against Auburn last season, holding Auburn to 87 rushing yards and combining for 13 total tackles.
For Auburn to get into the end zone against Clemson they will have to throw the ball.
The key to being able to establish a passing game against Clemson will be protecting the quarterback.
Stidham was sacked 3 times against Georgia Southern, something that cannot happen this week against Clemson's defensive line.
Also, Stidham looked average last week against Georgia Southern and will have to improve greatly to be able to move the ball offensively.
Malzhan said, "he is extremely tough on himself, which is usually a sign of a really good quarterback, and I expect him to play better this week."
Stidham will definitely need to get the ball off much faster against Clemson because the passing game will be the main way Auburn will be able to move the ball.
You cannot run through a brick wall, and Clemon's defensive line is as close to a brick wall as you can get in the game of football.
But note: Swinney did say he does feel like Auburn has all the pieces on both sides of the ball to win.
Dabo Swinney responded to Coach Dye's comments just days before the big matchup in Death Valley #CFB pic.twitter.com/JF0FAP32A8

— Paul Finebaum (@finebaum) September 7, 2017
3) Dominate on Defense

Tre' Williams (30) tackles Georgia Southern
Last week Auburn's defense put on a show for their Tiger fans, holding Georgia Southern to 78 yards total offense and zero points.
Auburn total yards: 394

Georgia Southern total yards: 41

That @AuburnFootball defense pic.twitter.com/zOfusYgF6m

— SEC Network (@SECNetwork) September 3, 2017
If Auburn wants to beat Clemson, their defense will have to play just as good, if not better, come Saturday.
In last years meeting with Clemson, Auburn held Clemson to 19 points and 399 total yards, which ended up being the low totals for Clemson in 2016.
This year, Auburn will have to do the same.
Clemson's offense was a show stopper in their win over Kent State, having 300 plus yards in both passing and rushing and 10 touchdowns offensively.
One of the most explosive players for Clemson is WR Deon Cain. Last season, Cain had 1,376 yards and 15 touchdowns while being the back-up to Mike Williams. In Clemson's opening win against Kent State, Cain caught a 61-yard touchdown and was Clemson's leading wide receiver.
If Auburn's defensive backs can stop him on the line, then Auburn has a chance of stopping Clemson's passing game.
However, Clemson's quarterback is certainly a show stopper who can do it in the air and with his feet. Kelly Bryant picked up right where Deshaun Watson left off, having 313 total yards and 2 touchdowns on a solid 48 snaps.
Auburn's defensive line must get to Bryant in the back field to stop his passing game but the linebackers, think Tre' Matthews, have to be able to fill in the holes and stop Bryant's running game.
On top of their offensive weapons, Tom Luginbill also ranked Clemson's offensive line No. 1 in college football.
This means Auburn will have to be strong on the line to be able to get to the quarterback and running backs.
The tandem of Marlon Davidson and Jeff Holland on Auburn's defensive line will have to find a way to get through Clemson's offensive line like they did against Georgia Southern.
If Auburn's defense can be as dominant as they were against Georgia Southern, then Auburn has a better chance of picking up the road victory.
4) Don't Turnover the Ball
Oprah turnovers
This is one of the biggest things Auburn can control this week that will keep them in the game.
If Auburn turns the ball over in Death Vally, the momentum keeps rolling for Clemson and the stadium will keep getting louder and louder.
In last years game against Clemson, Auburn turned the ball over 3 times (2 INTs and 1 FUM). And if you remember, the outcome of that game was not in favor of Auburn, losing 19-13.
This season, Auburn already has 2 turnovers, both coming from Stidham.
If Auburn wants to take the crowd out of the game, and prevent Clemson from scoring, they will have to hold onto the ball.
If the ball is turned over at least once, Auburn will lose momentum and Death Vally will keep growing louder and louder.
5) Take Advantage of Clemson's Youth
Auburn is a far more experienced team than Clemson, having many key players returning for 2017.
Since Clemson's National Championship, they have lost 6 key players: Deshaun Watson (QB), Mike Williams (WR), Wayne Gallman (RB), Jordan Leggett (TE), Ben Boulware (DE and co-MVP of the National Championship), and Carlos Watkins (DT).
Basically, with these players leaving, Clemson lost all of their star power and leadership from last season.
With these key players leaving, Clemson played 8 true freshmen in their win over Kent State, but also, 30 players played their first game.
This means Clemson has a lot of youth on their team. Although Auburn has some new faces, they did not lose all of their key players.
Auburn should use this fact to their advantage to force mistakes off of Clemson's young players, which will then give Auburn the edge in the game.